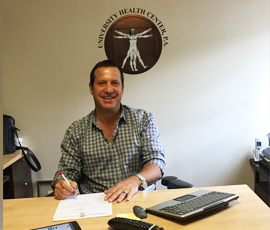 Dr. Steven Cane originates from Great Neck, New York. He received his Associate of Arts degree from George Washington University, a Bachelor of Science Degree in microbiology and cell science from the University of Florida, and a Doctor of Chiropractic degree from Life College in Marietta, Georgia. In 1990, he founded the University Health Center, P.A., in Tamarac, Florida. In addition to his private practice, Dr. Cane has served as the team physician for local high school intramural football and wrestling teams as well as a semi-professional soccer league. He also served on the Advisory Board for the Florida College of Natural Health. Dr. Cane serves as a medical expert and peer review witness in trials and court proceedings.Married since 1988, Dr. Steven Cane and his wife, Wendy have two children named Danielle and Dylan.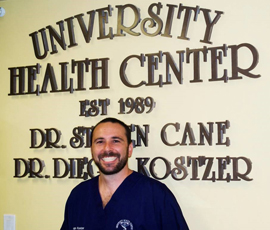 Dr. Diego Kostzer originates from Buenos Aires, Argentina. After graduating from the University of South Florida (USF) in 1996 with a Bachelors degree in Biology, he attended Life College where he received his Doctor of Chiropractic degree in 2001.
In 2004, Doctor "Diego" began providing his professional services at the University Health Center where he focuses on musculoskeletal conditions with emphasis on sports-related injuries and rehabilitation.
Having an accomplished career as a soccer player, coach and trainer, Doctor Kostzer utilizes his years of experience, knowledge and discipline incorporating them into his daily practice with an unrivaled attention to patient care.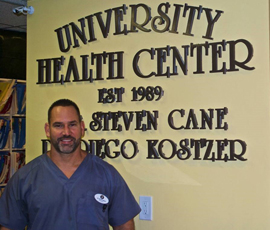 Graduated from South Plantation High School in 1990. He also played football for the University of Florida in 1990 & 1991. In 1995 he received a B.S. in Exercise Science from the University of Florida. Graduated Magna Cum Laude from the Life University in 1999. He practiced in Georgia in 2000 & 2001. Then received his Florida license in 2001. He is also certified in whiplash and minor traumatic brain injuries (MTBI) from the Spine Research Institute of San Diego.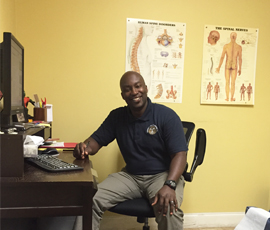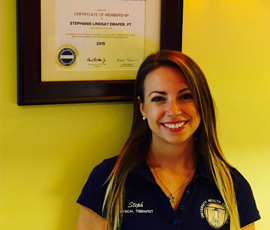 Stephanie originates from northern Ontario, Canada. She received her Honours Bachelor of Health Sciences with Cum Laude from the University of Ottawa in 2009, followed by a Master of Science in Physical Therapy from Queen's University in Kingston, Ontario During her graduate year, Stephanie executed her Master's Thesis in El Salvador on a measure of mobility for trans-tibial amputees affected by landmines from the civil war in developing countries. She has since been actively practicing with an array of clinically diverse patient populations which has shaped her career to specializing in orthopaedic rehabilitation. Stephanie is a member of the American Physical Therapy Association and has advanced training in Orthopaedic Manual & Manipulative Physical Therapy. She has established a reputation for providing outstanding physical therapy service and excellent patient care. In her spare time, Stephanie enjoys the outdoors and the benefits of physical activity which include yoga, running, biking and diving.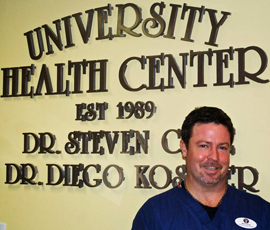 I just wanted to send a quick "thank you". You and your staff went beyond the call-of-duty and I was honestly blown out of the water. Your staff was amazingly friendly, Dr. Diego was great and Antoinette has "magic hands".
I always feel better and relaxed after my treatment. I have and will always refer my friends, family and co-workers here. I feel like a part of the University Health Center Family.
A hero is somebody you look up to and that you think that he or she gave back to the community. My hero is Dr. Diego. He is my hero because he is a chiropractor and they are real important because they work with your bones. Well every time I am at his office I always see that he has lots of people including me and mom on Mondays. Dr. Diego is a nice man. I think of him as a friend like sort of a brother because he is really cool to talk to and he always tells me to do good in school and gives me good advice. Well my hero told me he loves helping people with problems like if they have a neck problem he will crack it. I remember him telling me that he knew a guy that popped his shoulder bone and that the guy was in a lot of pain and he went to his job and fixed it. I also remember him telling me about a girl my age, she was 15, and he helped her with her wrist because her bone from her wrist popped out too and he helped her in a fast and easy way.
I would like to express to you my utmost appreciation for everything that you have done for me. As a patient with fibromyalgia I have seen a number of doctors and specialists. I have never let anybody come very close to my body since the pain is excruciating. I put my trust in chiropractic care. If any decision in my life was the right decision, this was it. I have never been treated with so much patience, care and concern. The expertise is everything that any person would want for themselves. From the moment I walked into the office I was always treated with caring words and people. I have never felt this good physically since I have this disease. The important factor was that when I healed from the accidents you would NEVER turn me away from your care. I will always be treated with as much care for the rest of my life, as the day I walked into your office. Dr. Diego has been the primary chiropractor that I have been working with. I want to thank you from the bottom of my heart, and that would never be enough to express to you how much your treatments have meant to me. You look at every patient as an individual and work with them. That is not true of every doctor I have seen since I was 18 and got sick. I would not be as healthy and energetic as I am today. As this point when a person asks me how I am feeling, and I say that I am feeling well, it is because of you. If I was asked to sum up my feelings in one word, it would have to be AMAZING!!!! There are no other words to express what you are as a doctor. In my eyes all "doctors" should have chiropractic care, so they can see that it does help the body and not hurt it, like they seem to believe. I would also like to thank the office staff for always caring for me, getting my chair so I can receive therapy. They always have kind words to say and smiles to say them with. So as an overall office I would like to thank each and every one of you with every ounce of my being, for the rest of my life.
As a chiropractic patient for over 30 years and as a patient of Dr. Cane for over 20 plus years I have seen a great deal of change at University Health Center. From the early day with Dr. cane on his own and through the years of growth. And now with Dr. Diego, I can honestly attest to the fact that the level of care from the massage therapists to the outstanding chiropractic services available. University Health Center is the ONLY choice for me. For years I lived with almost constant headaches and stiffness in my neck. Many attempts with many different chiropractors offered limited relieft if any. However, a chance meeting at Coral Springs Mall with Dr. Cane changed all of that. With my regular monthly visits I am able to live almost entirely headache free. I have changed insurance companies, cars, homes, jobs and gotten a whole lot older but have maintained a regular patient and will continue to be so. I highly recommend the professionals of this organization for anyone with constant or recurring pain issues. They are the very best I have experienced.